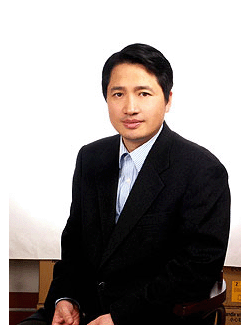 President: Kyung-Jun Sung
Professor of English Literature at College of English (Hankuk University of Foreign Studies)
Department of English Language and Literature at Seoul National University (B.A, M.A)
Dean of English College at Hankuk University of Foreign Studies
Head of Institute of British and American Studies
President of Mark Twain Society
Vice President of American Fiction Association of Korea

Welcome to World Sea Zen Federation!

There has been a drastic increase in the number of Sea Zen trainees not only in Korea but throughout the States and Europe. It has been a great pleasure to witness the foundation of World Sea Zen Federation and its fast growth. Despite its short history, SeaZen's worldwide prosperity owes much to its masters, instructors and trainees' amazing support and effort. It is the purpose of our federation to enhance health and vitality in body, mind and spirit of every one in the world regardless of religion, ideology, race and region.

Sea Zen is the most effective "well-being" discipline, which everybody can learn easily and within 2-3 months. You can confirm the results of training immediately in 2 or 3 weeks. Its physical, mental and spiritual training will bring peace and stability to every trainee in a short time. The biggest strength of Sea Zen is its universal disposition which can help everyone to learn and perform irrespective of religion or beliefs.

In this respect, Sea Zen shares a common theme with LOHAS (Lifestyles of Health and Sustainability) which is widely accepted as the most significant "well-being" movement in the West. Like LOHAS, World Sea Zen Federation seeks to protect the environment and create a physically and spiritually healthy society, improving the individual's physical, mental and spiritual health. This is what we call "Light-Nature" culture; or life of physically and spiritually healthy life ("light") within "nature," which we believe to be the solution to devastating human life and environmental disasters on earth.

I hope everyone to achieve a healthy and exuberant life through Sea Zen. On behalf of World Sea Zen Federation, I promise to expand and diffuse the spirit and the discipline of Sea Zen throughout the world. Thank you.